Stories & Testimonials
Audible Prescriptions: Real People, Real Problems
En-Vision America at NFB Convention, July 2007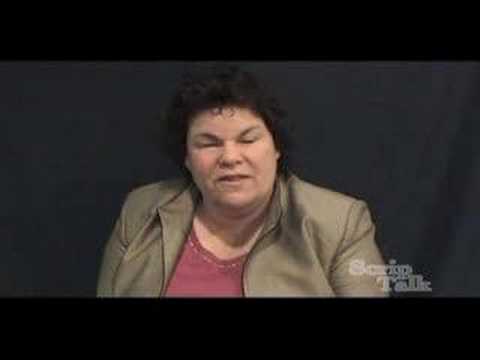 Click here for a Windows Media Player version of "Audible Prescriptions: Real People, Real Problems" with captions (opens a blank launching page in a new window).
*
"Hello, I have taught independent living skills, home management,  cooking and Braille at three different agencies in Los Angeles and am an experienced braille labeler and user of the ID Mate II and now the Summit.  That being said, the Summit just helped me to avoid a very dangerous situation.  I had purchased a refill size of Windex Original glass cleaner, but had forgotten about it and mistakenly put it in the refrigerator with other chilled juices.  I thought I had better identify it before opening and pouring a glass.  The Summit told me this was Windex and not juice, even though the bottles are similar.  Without this knowledge I surely would have poured the first glass for myself or someone else.  Thank goodness that using the Summit, even with my past experience, prevented this, and demonstrated how useful this product is for a user of any level!"
Cindy F. – Los Angeles, CA
*
"In 2009 I purchased an i.d. mate OMNI and I loved it. Earlier this year I traded up to an i.d. mate Summit, and I really love it. I love the smaller size. I love the new features including the battery statues. I love the carry-over features such as the spell mode (which I use and appreciate constantly). I love the increased bytes. I love the padded case and the fanny pack. I love the additional products in the database. I did not select any of the new voices, but I appreciate the choices. I love that the user's manual is on audio CD (since I do not have a computer on which to use a CD-ROM). May I repeat myself: I LOVE my i.d. mate Summit.
We all have different life styles and needs. My 90-year-old mother and I live together. We go grocery shopping every four/five weeks and stock up. My Summit enables me to sort and store the many items we purchase. One of my hobbies is crocheting. I am thrilled that my Summit allows me to sort and identify colors of the Red Heart yarn I usually use. I am delighted when I check an item and my Summit tells me what it is when I had no idea that item was in the database. I enjoy the information given me by my Summit after it identifies the product/item. I chose the function that allows the information to continue to automatically after the products is identified. I can listen to as much of it as I wish or need and can silence it and move on to another product at my discretion. Have I mentioned that I love my Summit?
Thank you for these wonderful i.d. mates. Thank you for the cases and accessories. Thank you for the friendly and professional assistance and contacts with your staff. "
- Jeri W.
*
Read a testimonial by a happy ScripTalk Station customer – Howard Payne's testimonial (not screen reader accessible).
*
"i.d. mate Summit, that's the coolest cowbell I've ever seen!" – Bobby L.
*
"Thank you for making life so much easier for us." – Thomas A.
*
"That's fantastic!" – Karen B. (about ScripTalk Station)